Water Saving Tips and Information
Are you experiencing higher than normal water bills? The information and tips below can help you figure out why.
Common Causes of High-Water Bills
Typical home water use 
The chart below shows you the typical water usage of various household items.
11 litres/3 gallons per flush
15 litres/4 gallons per minute
113 litres/30 gallons per fill
52 litres/14 gallons per load
189 litres/50 gallons per load
1,362 litres/360 gallons per hour
Pool (14' X 28' / 5.5 ft. deep)
56,781 litres/15,000 gallons per fill
Common causes of high-water use
The chart below can help you identify household items that may make your bills higher.  
Toilet (overflow tube leak)
Up to 15,352 litres/4,320 gallons per day
Toilet (flush valve leak)
Up to 15,352 litres/4,320 gallons per day
Up to 1,533 litres/405 gallons per day
Up to 1,362 litres/360 gallons per hour
Dependent on number of guests
How to Detect Water Leaks
Leaks are wasteful and expensive. Regularly checking taps, pipes and fittings around your property could save water and money. Get professional help whenever you notice a significant change in your water bills. 
Four steps to detect water leaks
Plan a day when you will not use water overnight: no washing machines, dishwashers, sprinklers, or flushing any toilets for the entire night.  
Read and write or type out the numbers on your water meter. For help, please click How to Read Your Water Meter below.
Sleep tight, and don't flush or use water.  
Wake up and read your water meter. Bring the numbers you wrote or typed out with you. If the numbers changed overnight without any water use, there's a leak.
Five steps to detect toilet leaks
Toilet leaks may be easy to repair but are hard to detect. Often toilet leaks are silent, making them hard to notice. If there is an increase in your water consumption, you might have a toilet leak. Here's how you can find out if you have a toilet leak:  
Remove the tank lid of the toilet.  
Drop five drops of food colouring in the toilet tank. If you do not have food colouring, use Worcestershire sauce or any very dark sauce.  
Replace the toilet lid and wait 30 minutes.  
Look closely around your toilet bowl. If the water is clear, then there is no leak. If the water has changed colour, there's a leak.  
Repeat these steps with all the toilets in your house.  
How to Read Your Water Meter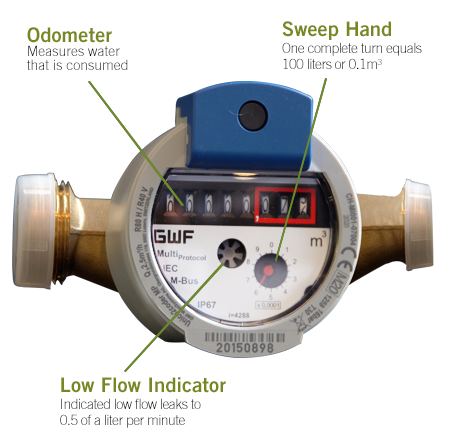 The odometer labelled on the picture measures the water you use in cubic metres, and one cubic metre equals 1,000 litres. 
The small triangle in the centre of the face is a Low-Flow indicator. It turns when even a  small amount of water passes through the meter.  

To detect a leak, turn off everything in your house that uses water. The low-flow indicator should no longer be moving. If it moves, you might have a leak. 

The sweep hand on your meter shows the last number that the odometer will read.  
How to Turn Off Your Water Valve
If you need to temporarily turn off your water supply, follow the following steps: 
Look for the water control valve inside your home. It is between the water meter and the floor and is most likely in your basement.  
Turn the valve clockwise (to the right) to shut off your water. 
If it is a lever, you still have to turn it clockwise (or the direction that the off-arrow points to). 
General water valve information
The water control valve is the property of the homeowner. You should try to keep it in good operating condition. If you think the valve is not working correctly, you should have it repaired or replaced. Look up "plumbing supplies and services" listings in the Yellow Pages phone book or online. 
Going Away? Here's What You Need to Know
Are you leaving your home or office for a long time? If you are, you may want to consider shutting off the water. If your house or office uses water for heating, you cannot shut it off even if you are not there. 
If plumbing problems happen while you're away, these simple steps could protect your property from the damage and costs water leak cause: 
Close the shut-off valve. Please click How to Turn Off Your Water Valve above for more details. 
Let the water run for all your faucets, showers, or tubs to relieve pressure in the lines. 
If there is no shut-off valve, close the water supply to toilets, sinks, tubs, and washing machines often have individual shut-off valves that look like knobs. 
Paying your water bills while you're away
Visit our Contact Us page for more information about how you can arrange for your bills to be paid. Consider signing up for e-billing if you want to travel without the fear of being late on your payments (and if you want to save some trees).
Visit Your Municipality's Website for More Information and Tips